A Satin Pillowcase for Lash Extensions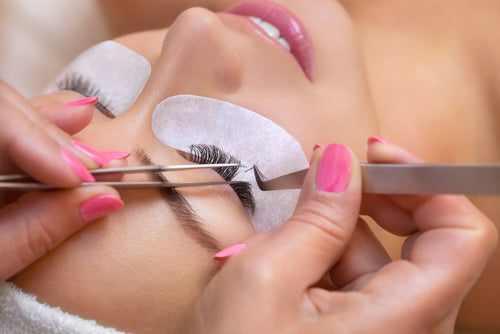 You've decided to take the plunge, join the bandwagon, and get lash extensions! After doing your research, asking around, and finding the most qualified lash expert to apply your new lashes, you walk out of the lash salon looking and feeling like a million bucks. Sure, you just shelled out a few of your hard earned Ben Franklins, but it was worth it- you have the lashes you always dreamed of! You decide to skip reading the "Aftercare of Lash Extensions" instructions, and head straight to bed.  The next morning, you wake early; excited to take on the world while batting your new lush lashes.  You roll over and find your new lashes stuck all over your *gasp*cotton pillowcase!
Don't let this be you!
As part of lash extension aftercare, professionals advise to "sleep on your back" and "do not sleep on your face." Well, if you are someone who can sleep in a prone position all night without moving an inch, congratulations! You may be among the few people in the world that are capable of this! But for the overwhelming majority, tossing and turning during the night is the norm, which is why lash experts recommend sleeping on a satin pillowcase.  Cotton's rough, course fibers can catch and pull on lashes, causing damage and breakage.  Satin's smooth, slick surface is much gentler on your lashes, and allows them to remain where they belong- on your face and not all over your pillow. If you've decided to make the time and financial commitment to lash extensions, make sure you are protecting your investment by sleeping on a satin pillowcase. As an added bonus, your hair and skin will benefit as well!
Here's to sweet dreams & beautiful mornings!